I've been so blessed this year with an AMAZING group of Senior Reps! Each one of them has their own personality and uniqueness!  With that being said, I will be conducting interviews with my 2013 Senior Reps throughout the year and "spotlighting" them each week on the CHP blog. The lucky person chosen for this week is Miss Emily G!
What High School do you attend?
Chapin High School
Are you planning on attending college after you graduate? If so, where do you want to go and what will your major be?
I plan on going to college when I graduate, though I'm not positive on which I will be attending, and want to pursue a career in Child Psychology. I want to major in Psychology and minor in education. 🙂
After college what are your plans?
Depending on what exactly I want to do, I will most likely get my Doctorate degree and go from there. Who knows, I may be in school a little longer than I think! I definitely can not wait to have my DREAM wedding and have a family. 🙂
How would you describe your fashion style?
My fashion style would be described as preppy/chic. I like to look classy and clean! My favorite kind of outfit is most definitely leggings, a t-shirt, and UGGs. I'm not too sure if that is considered a preppy outfit, but it's definitely what I'm most comfortable in!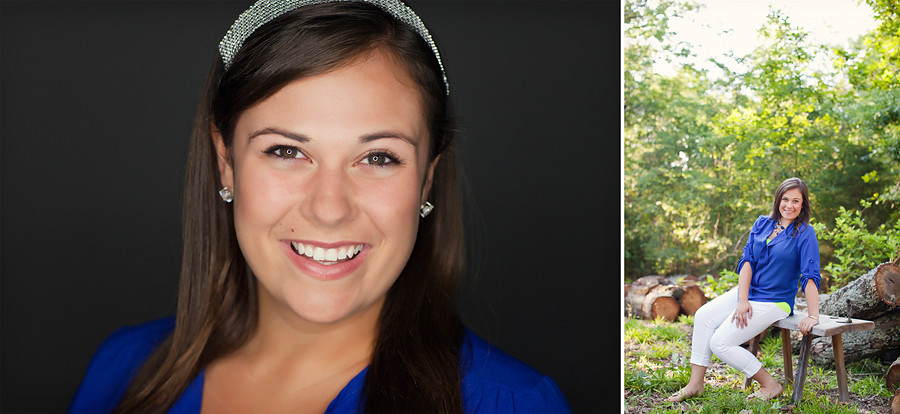 Do you have any nicknames? If so, what's the story behind it?
I actually can't remember the last time someone (besides family) called me Emily. Everyone at school calls me and knows me as "Greco", my last name. Considering there are SO many different Emily's in my school and area, I guess that's how I am differentiated! Friends started calling me Greco in the 5th grade. I love being called by my last name because it's unique and avoids confusion! I have also adopted the name "mom" from my friends because I am very animated and want kids so bad (later in life) and act like a mom!
Complete the sentence, "There once was a…"
"…lady who swallowed a fly…" 🙂
What weakness would you like to improve on and WHY?
Sometimes, I am afraid of the unknown. Specifically people. I would like to improve by stepping out of my comfort zone and meeting new friends and forming new relationships. I feel like everyone needs a friend and would love nothing more than to be a friend to anyone. I am such a people person, and ALWAYS have available time in my busy schedule for friends. 🙂
What is the most adventurous thing you've ever done and WHY?
Hmmm…. the most adventerous thing I've ever done was embark on a 23 day journey with 80 teenagers whom I didn't know. We traveled across America with fellow teenagers and went west. On this trip I did some pretty crazy things like HIKE the Grand Canyon, run around the Las Vegas Wal Mart (aka sketch), and pretend with my 80 other peers that there was a celebrity (we made one up) in the middle of Hollywood. I'm not so sure why I agreed to go on a 23 day adventure with 80 strangers across our country, but I'm so glad I did! It was the greatest thing I have done in my entire life!
If you could spend the day with a current celebrity, who would it be and WHY?
Oh gosh. I wish I could hesitate on this one, but I can't. I would DEFINITELY spend the day with Luke Bryan (famous country star, and God's gift to the world). I don't know about others, but I personally believe that Luke Bryan is the most attractive man on the face of the earth, not to mention he sings like an angel. I would be perfectly fine with just being in the same room and staring at him all day. Ha, just kidding (not really). But on my dream date with Luke Bryan, we would write and sing a song together and then get married. 🙂
If you had a musical parrot what is the first song you would teach it and WHY?
I would teach the parrot "Baby Got Back" because hearing a parrot sing "I like big butts and I can not lie" would be the only thing keeping me from killing it (I don't really care for birds) because it would be so funny!
Fill in the blank…what's your favorite:
Sport: I LOVE TO PLAY REC SOFTBALL. I love to watch football and baseball though.
Disney Movie: HIGH SCHOOL MUSICAL/ LITTLE MERMAID/ SLEEPING BEAUTY
Halloween costume you have worn: 'A' from Pretty Little Liars!
Cereal: Honey Nut Cheerios
What do you like most about Craig Hewitt Photography and WHY?
I love being able to tell my friends about such an amazing photography business! Craig's photographs always turn out phenomenal, and he has the ability to make every client's pictures look flawless. There are many benefits along with responsibilities of being a Senior Rep, but it is the greatest way to promote a wonderful business and meet new friends! Not to mention, the Craig Hewitt himself is absolutely awesome (as well as his wife and 4 beautiful children)!
Thanks Greco, Mom Emily G for being YOU! You are an outstanding individual and a perfect fit for a CHP Senior Rep!